Good Practice in Green Development - INVT Power Selected as 2017 Excellent Service Provider in Energy Conservation & Emission Re
---
Time of issue:2018-03-22
Views:
On December 19, 2017 Green Data Center Technology Conference of China and 2018 Annual Meeting of Data Center Technology Committee was held at Ambassador Hotel of Beijing. Energy conservation technologies were discussed, know-hows concerning green development were transmitted, demonstration projects and products were presented by means of themed submit, technical forum and high-end dialogue at the conference. Results of "2017 Annual Award for Energy Efficiency of Data Center" were released at the meeting, and INVT was selected as "2017 Excellent Service Provider in Energy Conservation & Emission Reduction of Data Center".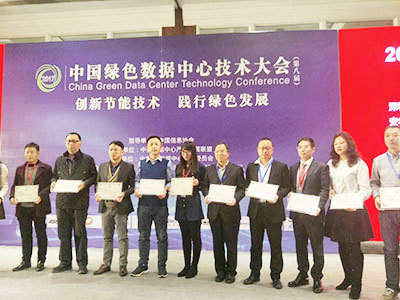 This selection was carried out across the industry from June 22, and 69 relevant organizations participated in it. Through expert evaluation, 17 outstanding enterprises and 13 excellent service providers in energy conservation and emission reduction of data center were selected finally, among which was INVT, indicating that it won general recognition of technical experts in promoting energy utilization of data center and constructing demonstration project for energy conservation.
With rapid development of Internet, mobile Internet, cloud computation and big data applications, construction of data center around the globe is being accelerated. At the same time energy saving and consumption reduction in data center is further highlighted. How to reduce energy consumption in data center and achieve green development is what data center builders are seeking for. As a global leading data center energy solution provider, INVT has always held concepts of green development, and introduced three different solutions - Smart-I, Smart-II and Smart-III respectively for data centers of micro, small and medium-large sizes. All application solutions, including subsystems and integrated architecture, are all of standard and modular design, and in combination with a number of energy conservation technologies such as application of cooling/heating channels, modular UPS, inter-array cooling, natural cooling interlocking, actually realizing green, energy-efficient and high-efficiency operation.
Currently IVNT products series for data center have been successfully used in major IDC data centers, such as Nanxiang Cloud Data Center, North Cloud Data Center, and Shanxi Cloud Computing Center. In future, INVT will always adhere to the approach of green development by relying on its own innovative research and development strength, and constantly introduce and improve system solutions and excellent products, assist customers in building more green and energy-efficient data center, and facilitate green development of national data centers.