Assistance in Cultural Transmission - IVNT Serve Hunan CATV Group
---
Time of issue:2018-03-15
Views:
Relying on its excellent product quality and comprehensive corporate strength, INVT won a bid of Hunan CATV Group in other day in its centralized purchase and supplier selection of 2017, to serve the group and provide high-reliability power support for it.
It was reported that, Hunan CATV Network (Group) Company Limited is a large cultural enterprise approved by the government of Hunan, and one of major CATV operators in the province, responsible for design, construction, management, operation and maintenance of the cable TV network across Hunan, with its services covering basic, expanded and value added business in CATV network. Hunan CATV (Changsha) Network Company Limited, a subsidiary of Hunan CATV Group, was incorporated with investment capital of ¥100,000,000 in Changsha High-Tech Industrial Zone in April of 2004, which is responsible for planning, construction and management of cable TV network and delivery and operation of digital television service in the city.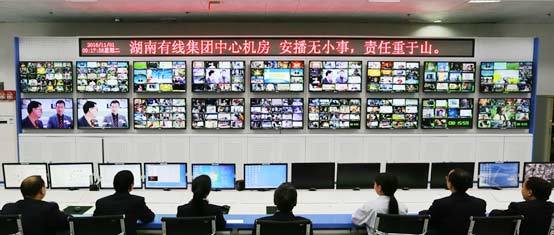 Our product model RM150/25X in RM series was proposed in the bid, which is furnished with 25kVA power module, in height of merely 3U. Its main system unit is equipped with a 10.4' colored LCD touch screen, and integrated IGBT module in core power component, and in modular design of N+X redundancy for full digital control and remote EPO function. In addition, independent aging mode will be activated in the system for full-load system testing to relieve customers of use of/construction with ultra-large load cabinet, and to achieve environment-friendly on-load testing and rapid work acceptance with ease. Relying on reliable product performance, products of this series has currently been applied in a range of industry sectors, including government, finance, communication, education, transportation, meteorology, broadcasting, industry and commerce and taxing, healthcare and energy.
Its being selected to serve Hunan CATV Group once again proves our increasing comprehensive technological strength. INVT will continuously seek for new breakthrough to make further achievement and create cost-efficient user experience to customers.