Stabilize Power Security, and Build a Sturdy Food Safety Line
---
Time of issue:2020-01-09
Views:
In September 2019, INVT Power's engine room devices, including 500KVA UPS and 400 12V-200AH batteries, began to serve the clinical laboratory of Hebei Food Inspection and Research Institute, ensuring power security for equipment such as computers and machines for inspection and CT purposes that demand essential loads, so that food inspection work can be implemented successfully.
Subordinate to Hebei Administration for Market Regulation, c is a third-party comprehensive inspection organization integrated of testing, scientific research, and formulation and revision of standards. The Food Inspection and Research Institute, via authorized projects that have passed the qualification accreditation and approved by the review of the laboratory, which cover the fields of food, food packaging, food additives, agricultural and sideline products, feed, environmental quality, functional food, cosmetics, and Chinese medicinal materials, is of inspecting capabilities in full ranges from origin environment, agricultural and sideline products, to food and food packaging, i.e., the ability to inspect the whole food chain from "the field to the dining table"; it is one of the first quality inspection institutions in China that has been accredited as a national laboratory for food stimulant testing, the first food re-inspection organization in China and the only one in Hebei, whose inspection ability covers all the 10 areas of re-inspection items as required by the Certification and Accreditation Administration, the National Health Commission, and the Ministry of Agriculture and Rural Affairs.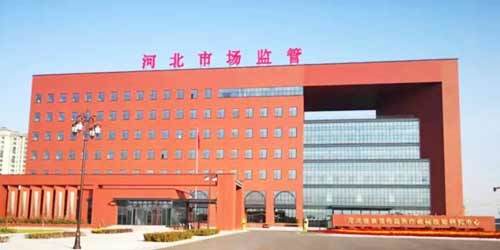 The UPS, whose functionality is not limited only as a power supply for equipment, can also provide stable output voltage to avoid voltage surge that may adversely affect the service life of the equipment. In foreign countries, the development of UPS can be traced back to as early as the 1970s, while China's initial devotion to the field started in the late 80s, with a gap of over a decade. After 2 decades of development in China's UPS industry, in spite of the dominance of well-known foreign brands in the domestic market, INVT Power, by relying on high-end technologies and competent after-sales service teams, has ranked second in terms of market share in China's modular UPS market for three consecutive years, according to the reports of CCID.
On the basis of customer requirements, this successful case adopts a RM500/50X modular UPS, 400 pieces of 12V 200AH batteries, 2 sets of 26.5KW precision air conditioners, and a power environment monitoring system. This project is powered by purely our high-performance series of products, which are of the following features.
The RM series modular UPS, a fully digitalized power supply product that leads the industry, is integrated of advanced technological achievements in the fields of power electronics and automatic control, as well as nearly 30 patents, thereby contributing to giant breakthroughs in the reliability, availability and maintainability of power supply to critical equipment. Having taken into account the technical characteristics of traditional tower models and the requirements of a modern machine room for modulization, the modular design achieved ensures a highly reliable system. This series product reaches the international leading level in every performance aspect, and is extremely cost effective, thus making it the best choice for industries in need of high-reliability power supply.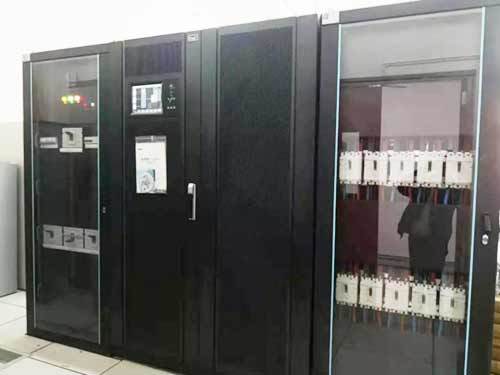 The storage battery has many performance features, such as super long durability, professional design that is maintenance-free, excellent consistency, minuscule self-discharge current, extremely wide operating temperature range, reasonable installation, and rational structural design.
The precision air conditioner supports the function of constant temperature and constant humidity, with fully-intelligent precise control; 365 days × 24 hours uninterrupted, round-the-clock operation; long service life, low operating and maintenance costs; large air volume and small enthalpy difference, thus meeting the requirements of an equipment room for professional temperature control; a high-efficiency backward centrifugal fan provided as standard, which features low energy consumption, large air volume, and long air supply distance, thus ensuring an even distribution of temperature and humidity in the machine room; ultra-wide power grid adaptability, phase sequence detection function, power-on self-startup and delayed startup; stepless speed regulation of the outdoor unit; diverse intra-system detection, alarm, and protection functions.
With set parameters for automatic protection, operating parameters and alarm records won't get lost in case power is off; the RS485 communication interface is provided as standard; with optional Ethernet interface, support TCP/IP, and SNMP protocol; a GPRS module is also optional to realize automatic text message and remind the maintenance personnel of the specific status of any fault, allowing the maintenance personnel to perform maintenance with appropriate tools according to the prompts.
The power environment monitoring system is equipped with an intelligent end station, offering various standard interfaces that allow for convenient connection and fast execution; supports history records, and event processing and logs, which all can be exported into a file; and raises an alarm via different means, including SMS, email, voice message, light and sound prompts, etc. It can also optionally come with a built-in large-capacity SD card that allows for massive data storage and other performance features.
In recent years, when the media frequently have been reporting food quality issues, people have to concern a lot about food safety issues. Now getting something to eat fails to keep up with our requirement, and what's more important is to have high-quality food, under which circumstance, this sort of food inspection work appears extremely urgent in our daily life. And our products facilitate the more stable operation of testing equipment in Hebei Food Inspection and Research Institute and serve as a constant guarantee for inspection work to be performed.