INVT Power won the bid of China Tower of rail transit project
---
Time of issue:2020-08-04
Views:
Recently, INVT has made another great achievement in the rail transit industry and successfully won the bid for "China Tower Co., Ltd. Fuzhou Branch's 2020 Metro Line 1 (extended section) and Metro Line 6 UPS system procurement project". It also opens a new chapter for INVT's case application in China Tower Corporation Limited.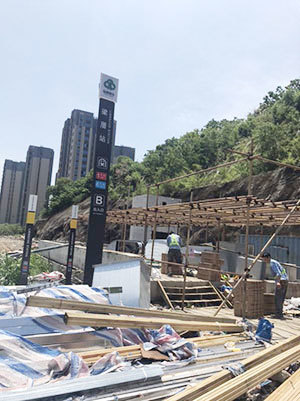 In this project, the INVT Power HT33 series tower uninterruptible power supply is selected as a widely used UPS product. In recent years, it has been successfully used in the subway transportation industry, education industry, medical industry, government units, radio and television industry, meteorology, transportation, and energy. Electricity and other fields. Especially in the ceramic manufacturing industry, INVT UPS uninterruptible power supplies are more adaptable and operate safely and reliably in dusty environments.
Performance characteristics:
Three-input three-output pure online double conversion products, support 380/400/415V, 50/60Hz power grid system, and provide ideal power supply quality and load protection.
The input power factor is as high as 0.99, the input harmonic current is less than 3%, and the efficiency of the whole machine is as high as 95%. It is environmentally friendly and highly energy-saving.
Rich options: dust-proof net, SNMP network communication card, lightning protection module, battery temperature compensator, mobile phone SMS alarm.
DSP is fully digital control, which realizes all the digital control of rectification, inverter, charging and discharging power conversion links.
Ultra-wide input voltage and frequency range, adapt to harsh grid environment, and adapt to various fuel generators.
Intelligent system self-diagnosis program, rich fault records, large-capacity history record storage space.
Friendly man-machine interface, 3.3-inch L CD non-touch screen, rich in information.
All fans in the system adopt redundant design, which greatly improves the reliability of the system.
Super load adaptability, super overload and short circuit capability.
Intelligent battery management program to extend battery life.
Digital circulation control technology, high reliability of paralleling.
The panel is equipped with an EPO emergency shutdown button.
All circuit boards adopt three-proof technology.
As one of the domestic UPS brands, INVT is committed to starting from the actual needs of customers, grasping technological innovation to upgrade its product performance in a timely manner, and constantly creating more targeted solutions for users to escort power safety. In the actual case product test related to urban rail transit, INVT UPS products have shown strong product performance and advantages in terms of system reliability and response to harsh environments. In the future, INVT will insist on taking high efficiency, energy saving and innovation as its own missions to provide a solid guarantee for the construction of urban rail transit.
brief introduction of Fujian Branch of China Tower Corporation Limited:
On November 4, 2014, the Fujian Branch of China Tower Corporation Limited was formally established in Fuzhou. The establishment of the company marked a new stage of development for the province's telecommunication infrastructure construction. In the future, the three major operators of Fujian's China Mobile, China Unicom and China Telecom will no longer build new towers, but instead use communication towers on a leased basis. The operators will have more energy to develop new specialized services. China Tower is a large-scale state-owned communications infrastructure comprehensive service enterprise approved by the State Council and the SASAC with a registered capital of 10 billion yuan. China Mobile, China Unicom and China Telecom hold 40.0%, 30.1%, and 29.9% of the equity respectively. Its business scope includes the construction, maintenance and operation of communication towers, the construction, maintenance, operation and maintenance of base station equipment for mobile communication base station equipment rooms, power supplies, air-conditioning supporting facilities and indoor distribution systems. After the establishment of Fujian Tower, it will implement unified planning, unified construction, and unified integration of information infrastructure construction to effectively avoid duplication of investment and resource waste, further improve the level of joint construction and sharing, and achieve maximum utilization of resources, ultimately benefiting the majority of users.