INVT won the national honor - "National Enterprise Technology Center"
---
Time of issue:2023-08-10
Views:
Recently, the five ministries and commissions of the National Development and Reform Commission, the Ministry of Science and Technology, the Ministry of Finance, the General Administration of Customs, and the State Administration of Taxation jointly issued a notice "2023 (30th batch) National Enterprise Technology Center Identification List Publicity. A total of four companies in Shenzhen were on the list, and Shenzhen INVT Electric Co., Ltd. is among them.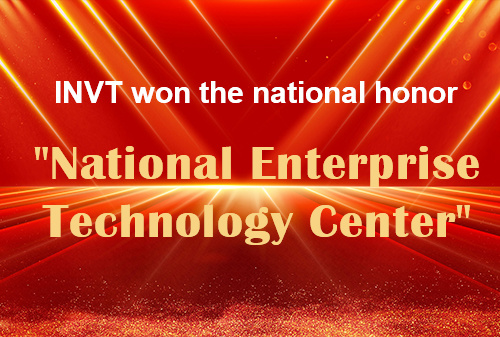 About National Enterprise Technology Center
The national enterprise technology center is the highest level in the evaluation of domestic enterprise technology centers and is an important part of the national technology innovation system. In the evaluation process, it is necessary to comprehensively evaluate the innovative talents, technological accumulation, innovation platform, technological output, and innovation benefits of the declared enterprises, so as to evaluate qualified enterprise technology centers with strong innovation capabilities, good innovation mechanisms, and great leading and demonstration effects. recognized and given policy support.


▲ Screenshot of National Development and Reform Commission
INVT currently has institutions such as the National Enterprise Technology Center, Guangdong Engineering Technology Research Center, Shenzhen Engineering Laboratory, Shenzhen Enterprise Technology Center, Shenzhen Engineering Technology Research Center, and Shenzhen Key Enterprise Research Institute. , Municipal science and technology projects, with a number of technologies reaching the advanced level at home and abroad.
INVT has been deeply involved in the fields of industrial automation and energy and power for more than 20 years. It has always been committed to improving product quality and strengthening technical research, and its research and development investment has increased year by year. Relying on years of technology accumulation, compound talents, technology output and innovative products, it has built a complete ecology of industrial automation products and has the ability to provide customers with various industry system solutions.
In the future, INVT will seize the opportunities of new energy, digital economy, new infrastructure, dual carbon, and intelligent manufacturing, relying on the management concept of informatization, dataization, and intelligence, grasp the critical period of manufacturing upgrades, and fully accelerate the foundation of platform products The research of technology and control platform continuously improves the performance of industrial automation products, so as to continuously meet customer needs and promote the progress and development of the industry.