INVT Power upgraded HTC11 1-3kVA Tower UPS grandly launched
---
Time of issue:2023-11-09
Views:
HTC11 series 1-3kVA online UPS solution with a new technological appearance and new topology. The digital control of the MCU processor with high efficiency and stable performance enables finer division of labor and collaboration among each unit, faster data processing speed, and more accurate fault diagnosis. It can easily cope with various load impacts and achieve multi-faceted performance upgrades. The internal 12A digital charger is compatible with lithium battery solutions, making the overall solution more flexible and applicable. It can be widely used in various industries such as government, finance, communications, education, transportation, meteorology, radio and television, industrial and commercial taxation, medical and health care, energy, and electricity.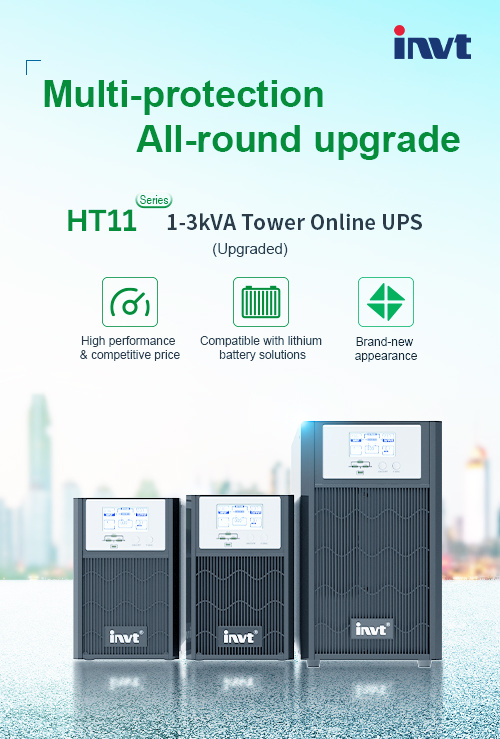 Product Highlights
1. Working mode: single in and single out, double conversion online working, power optional range: 1~3kVA.
2. Highly efficient and energy-saving, new machine design, PF=1, machine efficiency as high as 95.5%, low carbon and energy saving.
3. Supports lead-acid and lithium batteries, adapting to various application scenarios.
4. Fully digital control charger, charging current can be set to 1-12A.
5. 2.7-inch non-touch screen LCD/LED display, intuitively displaying machine information.
6. The black box recording function records rectifier/inverter abnormal information and can be exported to a computer to generate waveforms for easy analysis.