Product Solution | RM series 60-600kVA modular UPS
---
Time of issue:2023-09-15
Views:
RM series 60-600kVA intelligent modular UPS is a breakthrough product solution. It can be widely used in various industries such as government, finance, communications, education, transportation, meteorology, radio and television, industrial and commercial taxation, medical and health care, energy, and electricity.
This product solution uses a new topology platform, a bidirectional DC-DC circuit, and is equipped with a charger with "accelerated package level" power to save time, reduce energy efficiency losses, and further improve the performance of the entire machine. Apply battery and grid-intelligent peak-shifting power supply technology to reduce usage costs. The power module of the whole machine is compactly designed, and the high-density structural space utilization rate greatly saves land area.
In addition, the RM series 60-600kVA intelligent modular UPS can also use lithium battery solutions. Since lithium batteries have the advantages of small size, light weight, high energy density, and long life, they can save customers' floor space to a great extent. and operation and maintenance costs. Equipped with a 10-inch large color touch screen for IoT intelligent monitoring, it brings users a better look and experience.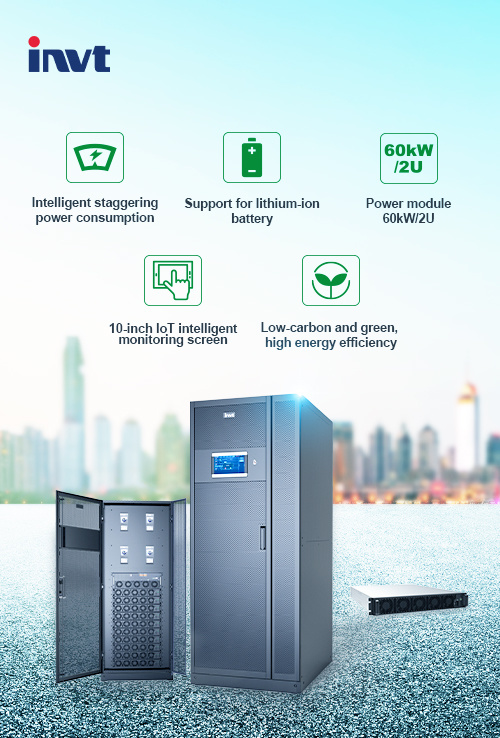 Product Highlights:
1. Working mode: three in and three out, double conversion online working, power optional range: 60~600kVA.
2. The input power factor is high, the input harmonic current is small, and the energy efficiency of the whole machine is high.
3. Bidirectional DC_DC topology platform supports "accelerated package level" charging power.
4. Support the battery and power grid to supply power to the load at the same time, and intelligent peak-staggered power supply.
5. Equipped with intelligent sleep mode, the sleep time can be set for sleep rotation to achieve green energy saving.
6. The power density of a single module reaches 60kW/2U.
7. Intelligent system self-diagnosis solution, rich fault records, and large-capacity historical record storage space.
8. 10-inch color touch screen, new display style, supports the IoT, and intelligent big data monitoring.
9. Super load adaptability, super overload, and short circuit capability.
10. The battery cell number range is adjustable from 30 to 48 cells, supporting lithium battery applications.
11. Intelligent battery management solution extends battery life.
12. Digital circulation control technology, high parallel reliability.
13. The panel is equipped with an EPO emergency shutdown button.
14. All circuit boards adopt three-proof technology.
As a provider of overall computer room energy solutions, INVT Power has strong technological innovation capabilities. It constantly studies the multi-faceted needs of industry users, focuses on improving INVT Power's product solutions and service levels, and provides better UPS uninterruptible power supply solutions for various industries. The solution ensures high-quality power supply and distribution for critical electrical equipment loads.