INVT Power won the "Excellent Product Award for Helping New Infrastructure"
---
Time of issue:2020-12-31
Views:
Recently, the "Blockchain Technology and Digital Economy Development Summit and 2020 Smart Data Center Construction and Operation Forum" hosted by the Computer Committee of the Beijing Institute of Electronics and China Green Data Center Promotion Alliance was successfully held in Beijing. In order to commend industry manufacturers that provide excellent technologies, products and solutions in the era of new infrastructure construction, the organizing committee of this conference held a series of selection activities for the "Award for New Infrastructure Construction".
INVT modular UPS power products have won the "2019-2020 Excellent Product Award for New Infrastructure Construction" with excellent performance indicators and good market promotion.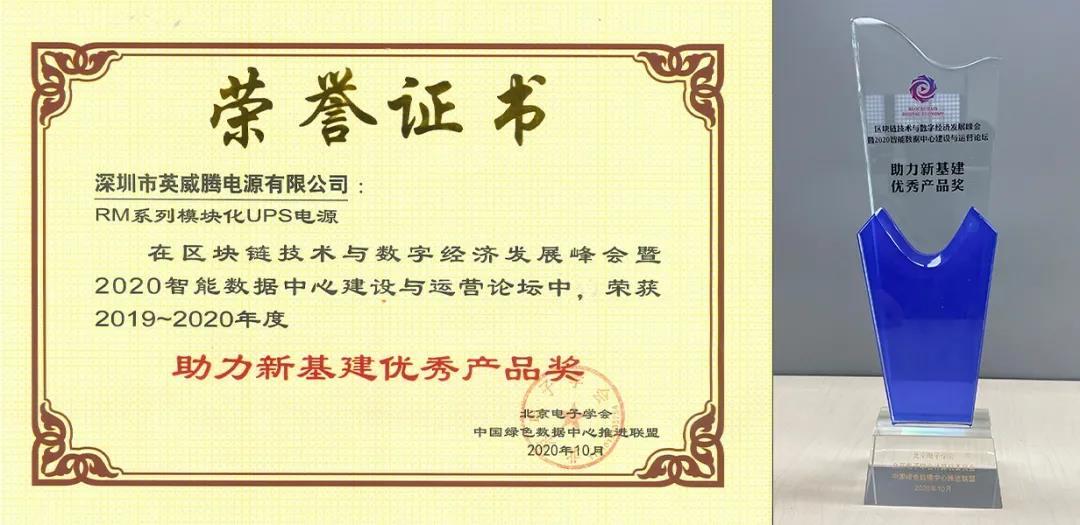 As the country's new infrastructure surges, the responsibility of data centers has become heavier, and explosive growth is ushered in. In 2020, INVT will take this good opportunity to actively carry out digital transformation promotion and new infrastructure strategic deployment. It has successively assisted the State Administration of Taxation and Henan Taxation Bureau in the transformation and construction of integrated, standardized and intelligent outlets; assisted the "new infrastructure" of Hebei Expressway , Successfully provided products and services for its power distribution automation UPS power transformation; launched a micro-module supporting UPS solution.
INVT Power has always been adhering to the "Market Orientation, Customer Centricity." business policy, and strives to provide value-for-money products and services to make customers more competitive. In terms of the micro-module data center product line, INVT Power puts into practice the concept of green development, and has launched three different application solutions for micro, small and medium-sized, respectively, Int.
The design of major application schemes from subsystems to overall architecture adopts standardized and modular design. At the same time, energy-saving technologies such as closed cold and hot aisles, modular UPS, inter-column refrigeration, and natural cooling linkage are jointly applied to achieve green, energy-saving and efficient operation . At this great opportunity for the development of the intelligent data center construction industry, we strive to realize the corporate vision of "To be the global leading and respected provider of products and services of industrial automation and electric power".