INVT assists power governance and energy saving and consumption reduction of Hon
---
Time of issue:2011-09-29
Views:
On August, 2012, INVT and Hong Kong Chung Yue Steel Group entered into agreement successfully on one set of 6kV,3150kW high voltage frequency inverter and one set of 11kV and 1MVA high voltage statistic reactive generator (iSVG), which became first set of high voltage frequency inverter native water resistance start-up cabinet of metallurgy industry waste steel crusher in Hong Kong region, meanwhile, it is also first application case that high voltage static reactive generator with home-made brand replace imported high voltage capacitance compensation cabinet, and fills application blank of home-made high voltage frequency inverter in waste steel crusher. In this project, with good brand image, advanced technology strength and strict utive standard, INVT satisfies strict technology requirements and European standard requirements of the customers, and won the order finally.
CHH100 high voltage frequency inverter signed this time, uses sophisticated power unit series technology, and working is steady and reliable, and its control system uses DSP+FPGA digital processing technology, which improves control precision and response speed of the device greatly; Output side uses transfer-phase and multi-level pulse width modulating technology, and harmonic content is low. The components of CHH100 high voltage frequency inverter is ed strictly, and the quality is reliable, at present, it is extensively applied into many industries including power, metallurgy, mine, cement, petroleum and chemical industry etc, and make important contribution for energy saving and consumption reduction and technique improvement of the enterprise, and it is appreciated deeply by the users.
Waste steel crusher belongs to impact load, and it is easy to induce the fluctuation of grid voltage in working and generate harmonic. Hong Kong power supplier--Chinese Power has strict requirements to grid power quality, and it is not allowed to delivery power without solving power quality problem. In order to improve power quality and comply with strict requirements of power supply departments to enterprise power use, through strict ion, Hong Kong Chung Yue Steel Group chose INVT iSVG series high voltage statistic reactive generator to solve the problem of power quality occurred in working of waste steel crusher.
INVT iSVG series high voltage statistic reactive generator can not only compensate reactive, but also compensate harmonic, which belongs to latest generation reactive compensation products, which are extensively applied into transformer station, new energy generation field, track traffic, metallurgy industry and coal mine industry, and used for improving system power factor and governance harmonic, and restrain grid voltage fluctuation and imbalanced three-phase, and improve system power quality and power use environment effectively. It not only has the performance of improving power use safety and purifying the grid, meanwhile, it can also save the energy and reduce the consumption.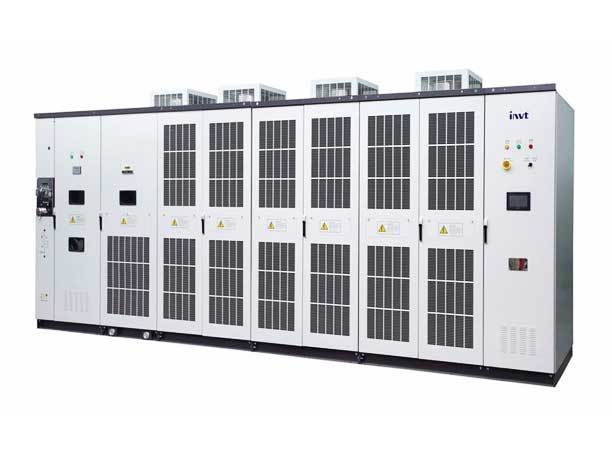 This successful signature is important step that INVT made in industrial automation market in Hong Kong region, which has positive meaning for the promotion and application of home-made high voltage big power frequency inverter and high voltage reactive generator. With good enterprise image, brilliant performance and reliable quality, INVT is winning support and trust from global customers gradually, and also makes INVT step towards enterprise vision of becoming global leading, honorable supplier providing the products and services in electric transmission, industrial automation and new energy fields.