INVT Power Undertook Three-phase 40KVA Annual Tour-inspection to Build Customer-Centered Service System
---
Time of issue:2016-12-02
Views:
A few days ago, INVT undertook an annual tour-inspection of (above three-phase 40KVA) host machine and provided users' products with on-site maintenance and overhaul. In the meanwhile, it provided users with solutions which could meet their demands according to the change of on-site demands so as to guarantee long-term and stable operation of equipment.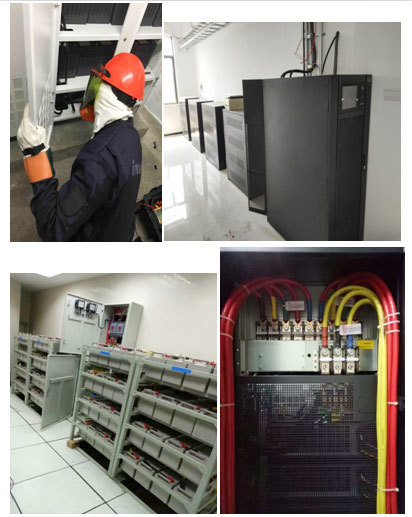 Through consistent exploration and accumulation, INVT takes the lead to build five-hierarchy service system equipped with the top-down framework including "Global Customers' Response System, China Customer Service Center, Large-region Technical Support Center, Regional Maintenance Center and Authorized Service Center". It provides users with comprehensive services with abundant contents and timely response. INVT currently has over 30 offices, joint guaranty centers and the maintenance outlets synchronized with sales in China.
INVT not only annually organizes tour inspection of products, but also provides various categories of technical and business training so as to facilitate users to further understand and have a better grasp and application of power supply system.
1. Product training
Product training includes UPS product principle, design methods, key circuit analysis, failure mode analysis and other courses. It aims to facilitate engineer users to have a better grasp of professional technologies of power supply products so as to preferably choose and configure highly cost-effective power supply system applicable to practical projects.
2. Operation Training
Operation training which includes on-site installation, debugging, maintenance and other contents can facilitate users to have a better grasp of detailed knowledge of structure and application of power-supply system.
3. System training
System training includes configuration and calculation methods of battery, distribution system design, remote-control system design, system failure handling etc. These courses can help users to comprehensively master integrative knowledge of power supply system.
Market orientation and user-centeredness are operation guidelines of INVT. We will put users' demands first and continuously create optimal services and value for users in the future.