INVT Power makes a splash at CeBIT 2015
---
Time of issue:2015-04-22
Views:
The 2015 Hanover Consumer Electronics, IT and Telecommunications Fair (referred to as "CeBIT2015") was a grand event held in Hannover, Germany from March 16th to 20th. Vendors and industry experts from around the world came together, to participate in the most important annual industry exhibition for 2015. As a leading expert among Chinese UPS power supply companies, INVT Power showcased its best-selling and spectacular new products, creating quite a splash at CeBIT in Hannover.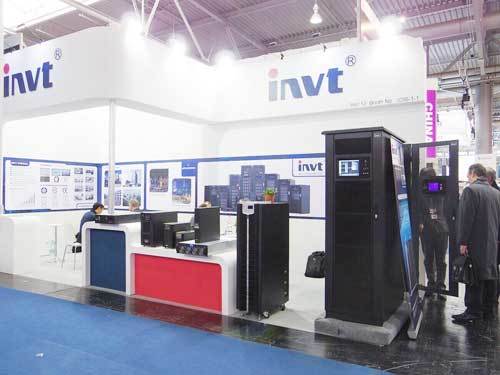 This is the 4th time INVT Power participated in CeBIT since 2012, with its booth set at C56-1-1. INVT Power displayed numerous exceptional models, such as the HT11 Series 1-20KVA, HR series 1-10KVA and RM060B. RM300KVA and the new model HT33030SX were also displayed at the exhibition. HT11 and HR11 series products are the company's bestselling products thanks to their outstanding system stability and industry praise, and attracted several customer enquiries and orders at the fair. RM060B integrates various advantages such as high availability, high reliability, flexibility and low cost, and is praised by customers as the best modular UPS system. The RM300 display and 10.4 inch color display were also showcased at the fair. With its rich information display and user-friendly operational interface, many visitors were attracted by it and even placed orders. HT33030SX series' innovative design gives it unparalleled reliability and high availability. The high reliability and smart design has given customers a unique experience. INVT Power's old and new customers expressed strong confidence in the products displayed, and expressed their great support by placing several orders.
The superior performance, innovative product design and 0nsite operation staff's know-how of INVT Power's UPS products, as well their friendly and helpful demeanor, appealed to many visitors who were keen discuss further cooperation. INVT Power's cost effective advantage, as well as its considerate pre and after sales services have been unanimously appreciated by all customers.
In recent years, INVT Power has increasingly promoted its global market branding, expanding its growing popularity, and has gained acceptance and appreciation from more and more customers, moving closer to becoming the world's leading UPS manufacturer.