INVT Power Wins "Customer Satisfaction Brand Award" at 11th UPS Power Supply Sys
---
Time of issue:2015-07-13
Views:
Through years of brand development, leading technology, outstanding performance in product efficiency, energy savings, reliability, availability, etc., good reputation and strong sales in the China market, INVT Power has established itself as a leading enterprise in the market, and on May 20th, 2015, won the "Customer Satisfaction Brand Award" at the "11th UPS Power Supply Systems and Infrastructure Technology Summit 2015 and Customer Satisfaction Survey Results Announcement Conference" held at Beijing International Convention Center.
The present global technological and industrial revolution, the development of Mobile Internet, Cloud Computing, Big Data, next generation communications technology, Internet of Things and other next-generation information technology, has unceasingly deepened and intensified industrial change in financial, telecommunications, education, health care, retail and numerous other industries.
With the theme "Grasping New Norms & Developing Fresh Perspectives", this Summit is held and promoted under the joint guidance of China Computer Users Association, Beijing Institute of Electronics and China Green Data Center. It is supported by China Power Supply Society Information System Power Technical Committee, International Battery Chamber of Commerce and Asia Battery Association, hosted by "UPS Application" magazine and co-organized by Jifang360.com. The event brought together government leaders, industry experts, business leaders, professional users, news media and other industry members, providing a platform for in-depth discussions on how to grasp and adapt to new economic norms, to explore new growth momentum, explore UPS and related industrial technology, and market new development and trends.
UPS engineering equipment serves as the basic requirement for all information industry, and the continuous expansion of China's information consumption market has also ushered a development opportunity in cloud computing, virtualization, big data, cloud storage and many other aspects. Faced with this "new normal" and confronted with competition from numerous brands, INVT Power UPS continues to adhere to its philosophy, "Going green, Energy-saving and Environment-friendly", and perseveres and is dedicated to achieving its business goal of constantly providing users with highly efficient, energy-saving and high-reliability products. The company adopts high-end energy-saving technology for all UPS products, and has firmly and strictly implemented the same in each and every aspect of its R&D and production, while providing users with personalized solutions. It has carried out a series of measures, striving to save users' energy consumption during production process to the maximum level. It is precisely because of INVT Power's capability in grasping latest industrial trends, pursuit of cutting-edge technology and constant development of products the market needs, that we have become one of the outstanding brand manufacturers with best user satisfaction.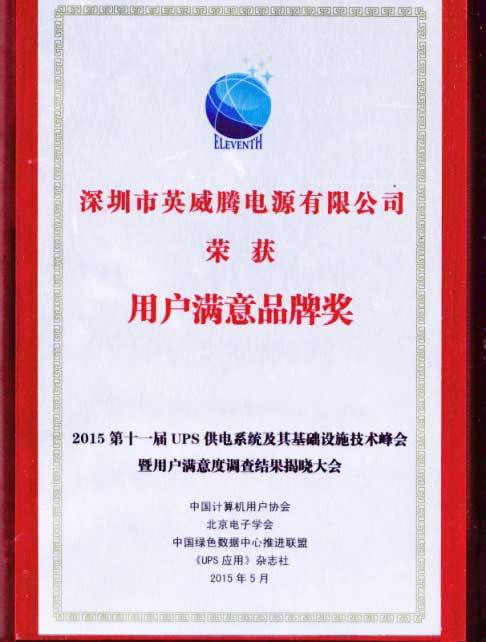 INVT Power wins "Customer Satisfaction Brand Award"