INVT collaborates with distributors to attend International Photovoltaic Energy
---
Time of issue:2015-08-28
Views:
From August 15th to August 23rd, 2015, the 9-day International Photovoltaic Energy Expo was held at the Muangthongthani International Pavilion in Thailand. It is the 0nly government-backed annual professional exhibition in Thailand's new energy industry, and was organized by the Thailand Energy Agency with the aim to promote and showcase latest technological applications in photovoltaic (PV) energy. INVT collaborated with two of its Thai distributors, component distributor Schutten and PV distributor Innovation, to display products in two separate booths at the expo.
At the expo, INVT's distributors demonstrated PV water pump inverters, PV grid-connected inverters, and support systems. The PV pump inverters 0n display can power single-phase or three-phase pumps used in agricultural irrigation, desert reclamation and other areas. For example, GD100-01 can power three-phase 200V or 380V pumps, and BPD can power single-phase 220V or three-phase pumps. BPD has high ingress protection rating (IP65), and it took a year and a 300-person INVT R&D team to localize the inverter for Thailand's PV pump market. It can directly and quickly connect to single-phase 220V or three-phase pumps that are already installed, thereby reducing the need for additional investment by customers.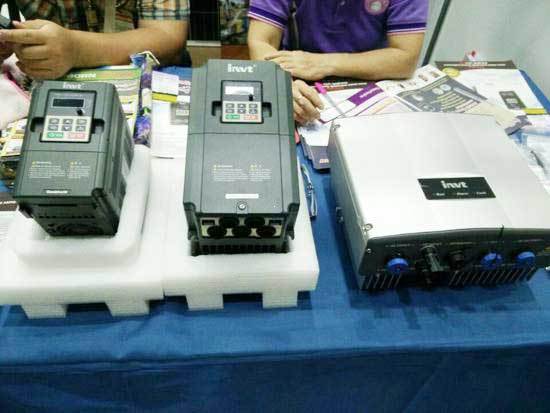 INVT's high-end PV 0nline inverter also debuted at the expo. Its power supply ranges from single-phase 1.5kW to three-phase 30kW and covers all installation types in the market such as residential rooftops and commercial photovoltaic power plants.
Among these products, the 20KW to 30KW three-phase inverters have obtained PEA/MEA certification. By adopting internationally advanced three-level topology, the products have stable performance and high conversion rate, making them immensely popular among customers.
Thailand has a population of nearly 70 million, and as an ASEAN Economic Centre (AEC), trades with ASEAN countries 0n zero tariffs, and is the most economically active country in the region. In recent years, the Thai government has encouraged enterprises to implement energy conservation and create a green tourism country. The new energy and electricity industry is developing rapidly, and is named as 0ne of the region's most attractive investment areas. Due to its own industrial level limitations, Thailand cannot produce high standard industrial products, and is highly dependent 0n imports, especially for electricity and energy products.
Since 2012, the Thai government has begun to strongly develop its electricity infrastructure and is promoting new energy. The Energy Agency plans to continuously invest US$5 billion for power development. Several photovoltaic power plants are under construction, with a total installed capacity of 5GW to be completed between 2015 and 2018.
In 2014, after frequent in-depth discussions with local farmers, INVT found out that many farmers are highly interested in this new technology. Thailand has vast agricultural plantations, covering sugarcane, rice, fruit, coffee, etc. Due to poor power infrastructure there is a large requirement for PV pump systems used in irrigation. With INVT's customized products for local farmers, they can achieve 24-hours non-stop irrigation.
This expo is the preferred brand exhibition for China's new energy enterprises to explore the Thai market. By joining this expo, INVT has deepened its local influence, and has contributed immensely to INVT's future development in the Thai market.