INVT Power was well attended and successed at CEBIT 2017
---
Time of issue:2017-04-07
Views:
Hannover, Germany, March 22-24, 2017
INVT, a leading total power solution provider in China, revealed its innovative modular power solutions and power technologies capable of supporting high-end computing requirements in the age of the IT at CeBIT 2017, and it was a great success.
Under the theme of "Offering fast customized solutions to our customers and continuous innovation for more competitive products and services", INVT had again strengthened its global market position with a complete offering of OEM and ODM production and service for the clients all around the world from single tower, rack and modular to intelligent solutions.
So far, we had gained more than 600 patents and our customers and partners are from more than 80 countries and areas in government, finance, internet, communication, traffic, electric and industry, with the high quality and top-class services, we are adding values to all our customers.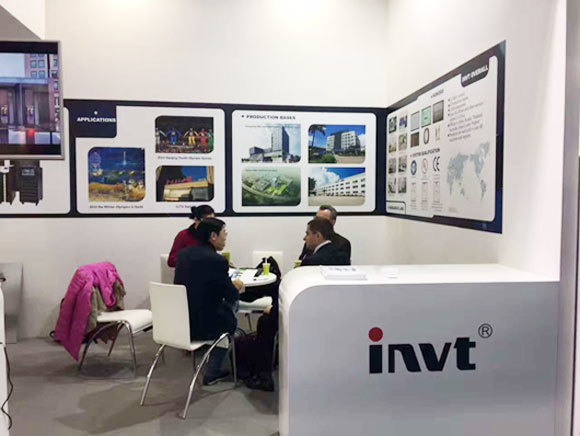 At CeBIT, The key customer value of INVT's power solutions includes:
*High Density, Modular, Scalable
Visitors to INVT's booth had witnessed two kinds of modular demos:
(1)Rack Mounted Modular UPS 25-200KVA, with the latest IGBT three-level and full DSP control technology, delivers the best combination of reliability and flexibility, compatible with 19" standard rack cabinet, convenient to be integrated with servers, is scalable, hot-swappable, online double conversion. The power capacity is from 25 to 200kVA/kW, 25kVA power module in 2U height, saving great amount of space, it is the ideal choice for modern data center.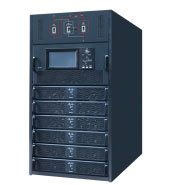 RM150-25C(6-Slots)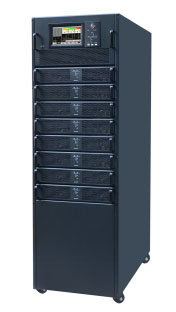 RM200-25C(8-Slots)
(2)Intelligent Solution of UPS & Power Distribution, dedicated for data center application, combining ATS, lighting, UPS power distribution, modular UPS system, power distribution for IT servers & air conditioners, etc in one rack, while intelligent monitoring is applied to UPS & individual branch of load, more flexible and reliable.
*Unique Design for High Reliability
Instead of discrete IGBT and SCR components, RM series UPS uses modular IGBT and SCR in Rectifier and Inverter, bringing in extremely high reliability, all components in one module, less fault points, higher reliability, integrated as one modular design, smaller disparity, and less space needed.
*Comprehensive Monitoring Management
In each power module, information of critical components is monitored and displayed in real time, giving customers a view of inner status of the system and providing reminder information for maintenance, such as running time of capacitors and fans displayed and recorded, comprehensive temperature monitoring for thermal abnormal detection and intelligent battery charger for long battery life.
*Critical Waveform Recording
UPS can record and save the data of the main parameters automatically when faults happen for further analysis, can record data information and present as waveform for further analysis, can easily spot the cause of the failure and avoid future similar faults.
Make Eco-friendly products, more effective and energy power solution.
INVT Power System will try their best to provide high quality products and service to global customers, welcome to test our quality and service, thank you.