Online rack-type UPS (HR33 series) applied in micromodules
---
Time of issue:2017-10-12
Views:
The development of micromodule data center is stimulating more and more market demand that online rack-type UPS is applied to scenes with higher power load. In order to continuously provide competitive products for customers, maintain INVT's leading advantages in the data center field, and satisfy market demand from micromodule data centers.INVT launches HR33 series 25KVA online rack-type UPS.
With its single cabinet's capacity of 25kVA/25kW, its maximum parallel-running capacity of 100kVA/100kW for up to 4 sets running in parallel, its output power factor of 1 and its efficiency up to 95.5%, the HR33 series 25KVA online rack-type UPS, which is easy to be entirely plugged into the 19"standard server cabinet of micromodule data center, or subject to vertical installation, is of extremely high usability and reliability.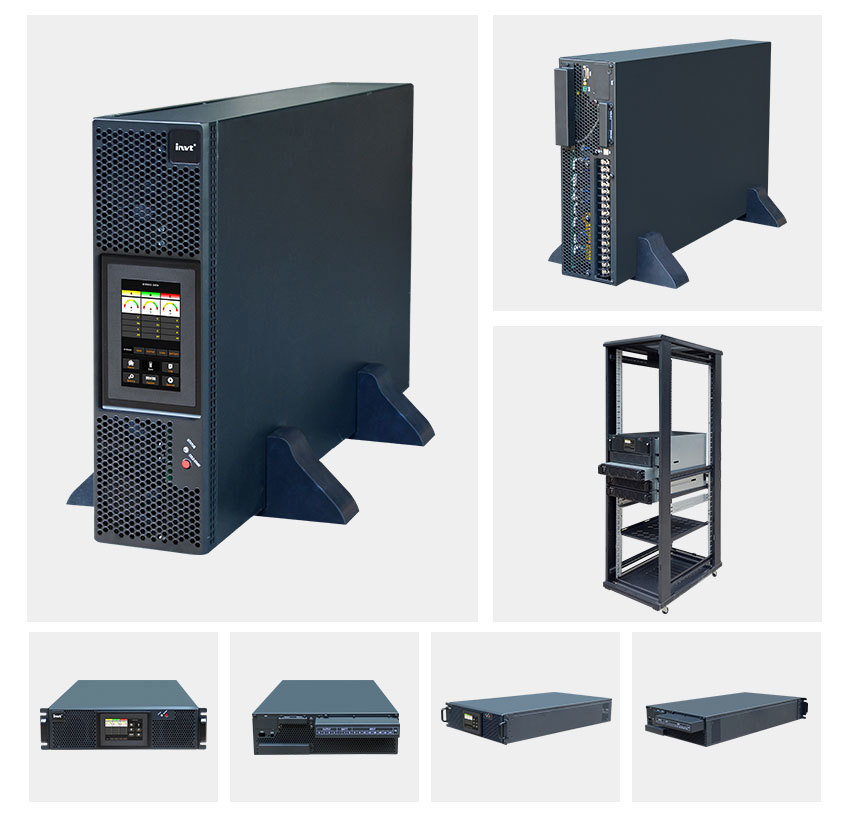 The launch of HR33 series 25KVA online rack-type UPS makes INVT an online rack-type UPS supplier at an international first-rate level. INVT is now an industrial leader of modular UPS.It is applicable to micromodule data centers, IDC data exchange machine rooms, network management systems/machine rooms, billing centers, business server cluster, OA and other relevant industries.
HR33 widely applied in integrated intelligence micro data centers
HR33 series 25KVA online rack-type UPS features
● 5"color touchscreen adopted, friendly human-machine interactive interface configured;
● Latest 32-bit DSP controller is used to improve control performance 50%, reduce the number of electronic components used, and decrease the failure rate.
● Support 4 sets running in parallel, with maximum capacity up to 100kVA/100kW.
● Dustproof power module design adopted to improve the dust protection and reliability of sensitive devices;
● The 4-fan running in parallel solution is used for heat dissipation of power modules, helps utilize redundant functions.
● Output power factor is 1.
● Ground installation and rack installation are supportable for the whole set, which is pluggable with 19"standard server cabinet; its application scenes are widely expanded.
● Active IGBT fault detection circuits are used to minimize influence of single IGBT fault on system stability.
● Standard configuration includes cold start battery components, dry-contact components and RS232 & 485 components.
● Optional configuration includes in-parallel components (incl. USB interface), LBS components, single-machine power distribution units and 1+1 in-parallel power distribution units.
● By using short-circuited copper bars, UPS single- or dual-input are quickly configurable.