INVT at Automation Expo 2017 to Take Place on 9th to 12th August, 2017
---
Time of issue:2017-10-26
Views:
Shenzhen, 7th, July, 2017 -- Shenzhen INVT electric co., ltd is going to participate in automation expo 2017 the 12th India international trade show from August 9th to 12th. Entrepreneurs in industries including industry automation, factory automation, electric automation, process automation and control, 3D printers, building automation, robotics are encouraged to attend this event. The reason why INVT attend this exhibition is that automation expo is Asia's second largest exhibition and we would like to find proper partners among these 800 leading automation industry suppliers who will showcase their state of the art product and services.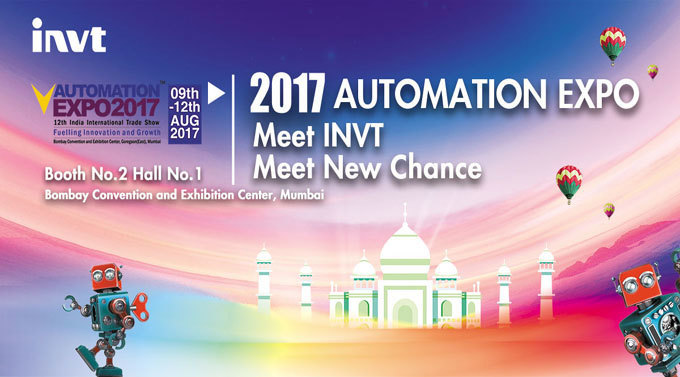 Mr. Leo, the sales manager who is responsible for sales in India, will together with staff of INVT electric India pvt ltd, to display INVT electric drive product like Goodrive10 series mini inverter, Goodrive20 mini vector inverter ,Goodrive200A inverters, HMI and PLC, etc. This products are suitable for many industrial applications.
PLC
INVT IVC1 series PLC is a mini high-performance PLC with small structure and powerful functions. It can be widely used in the mechanical manufacture industries such as textile fiber, machine tools, cables, foods and drinks, packages, plastics and steels,buildings, air conditioners, elevators and printing.
HMI
INVT VT series HMI features rich display function, huge internal memory, advanced configuration function, and easy to use human-machine interface; therefore, it facilitates human-machine interaction in industrial automation field.
GD20
Goodrive20 series inverters adopt international advanced vector control algorithm and possess excellent functions; compatible with wall and rail installation, smaller and
space-saving. It can be widely used in textile machinery, food machinery, plastic machinery, printing and packaging, environmental protection equipment, ceramic equipment, woodworking equipment and conveying equipment.
GD10
Goodrive10 mini economic inverters are developed for general applications of small power and OEM market. It applies V/f control technology, making the functions of PID, multiple-speed step, DC braking, Modbus communication, as well as less installation space (15% smaller than the counterparts) available.
GD200A
Goodrive200A inverters apply V/f vector control and various protections to control asynchronous motors. The air duct, hardware and software have been greatly improved for better environment adaptability, operation and reliable quality certificated by TüV SüD. It is widely used in air compressor, oil, warming and water supply, plastics machine, mine, fans and water pumps.
"It is pleasure to be part of Automation 2016, which is a global platform for automation industry enterprises. With some of the most revolutionary innovative solutions in the field of automation showcased at the event, I am sure it will prove to be a good choice and help us further enhance our market outreach," Mr. Leo said previously.