Nowadays, INVT has defined new business structure based on industry applications, forming four major business sectors covering
---
Time of issue:2017-12-21
Views:
Shenzhen Invt Electric Co., Ltd. (hereafter referred to as INVT) is a rising star of domestic brand that bases itself on advanced technologies and continuous achievements. Now with the signing of overseas petroleum low-temperature drilling inverter contract with Tianshui Electric Drive Research Institude limited liability Company (hereafter referred to as TEDRI), INVT has achieved a big breakthrough in middle-end market of global drive industry, marking a milestone for the development of INVT in middle to high-end market.
In Nov. 17, 2017, China International Industry Fair has reached its climax when the signing ceremony of INVT and TEDRI was launched. The alliance between two giants shows a strong sense of responsibility and aspiration of both sides.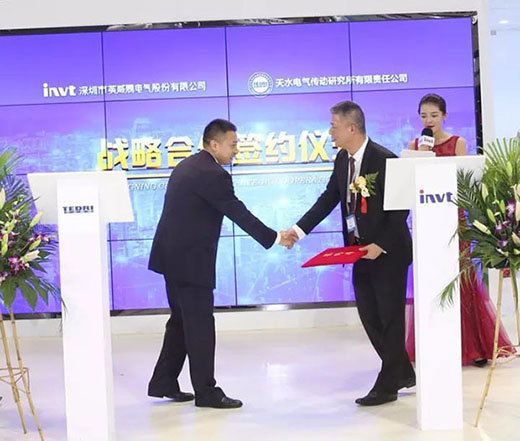 Alliance between two giants facilitates a new landscape
INVT, founded in 2002, became the top brand in domestic market in 2003 by its independently developed vector inverters; in 2006, the sales revenue of INVT reached a hundred million, which laid a solid foundation for the brand reputation and market share; in 2010, INVT became the first A share listed in Shenzhen Stock Exchange; in 2015, INVT completed the integration of group brands, and its industry automation and energy power business took shape; in 2017, INVT celebrated its 15th anniversary. These series of events demonstrate the continuous effort of INVT people.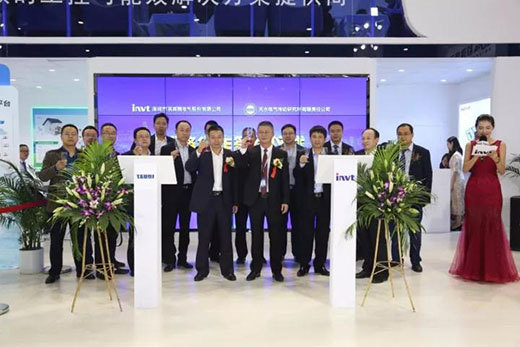 Nowadays, INVT has defined new business structure based on industry applications, forming four major business sectors covering industry automation, new energy vehicle, network power and rail transit.
In industry automation, INVT has reinforced the importance of inverter, controller, servo system and high-efficient motor while improving the priority of IoT business, all of which have shaped comprehensive product support and abundant application cases in petrochemical, metallurgy and ports.
"The contract signed with TEDRI is not the end, there will be subsequent orders with increasing quantities in the future. This is indeed a great honor for INVT as a domestic top brand.", said by Huang shenli, the present of INVT.
INVT has succeeded in breaking up the long-term monopoly of well-known international brands in petroleum drilling machine by? making it possible for domestic inverters to be installed in overseas petroleum devices, which is conducive to boosting the global reputation of domestic brands.
TEDRI boasts large electric drive system and national key lab of device technology. It is a professional research and design unit integrated with scientific research and system. The application range of TEDRI covers petroleum, metallurgy, coal, electricity and accelerator.
"It is our honor to bring domestic brands to the global market", said Wang youyun, "the most important factor in project management is risk control. The product itself must prove to be the perfect support. INVT products have won the recognition of overseas clients by performing steadily under extremely low temperature, however, we will not stop our step in pursuing improvement and perfection."
Concerning the future, Wang youyun thought highly of the cooperation with TEDRI: "Our cooperation will not end in petroleum industry, and we will enhance our collaboration and exploration in other fields and areas."
INVT, as the leading enterprise in automation and energy power, has more than ten years of experience in harbor machinery and large-scale drive field. While TEDRI also carries abundant experience in top-layer design, product technology and process details.
The cooperation between INVT and TEDRI not only generates beneficial economic effect, but is also conducive to the breakthrough in a variety of industries. "This has greatly boosts our confidence.
By participating in design process, mastering the role of the product in the overall plan, controlling installation, construction and inspection processes, we have gained an all-around improvement in our capacity, which enables INVT to become a strong helping hand for TEDRI."
Driven by innovation and powered by R&D
Petroleum drilling machine is a complicated set of devices applied in complex and challenging working environment, which imposes high demand on the technology and quality of the machine, making it the real high-end application field of drive system.
This is the first cooperation between TEDRI and INVT, and TEDRI has won the bid for 11 sets of overseas petroleum drilling machine project after cooperating with INVT. The fundamental cause to its success lies in that the petroleum drilling machine is marching towards intelligence, high efficiency and environmental protection. "INVT has won the opportunity to become the partner of TEDRI by virtue of its mature tri-level low-voltage and large-capacity inverter"
Tri-level inverter is featured with low noise, large output capacity, high output voltage, small current harmonics and better overall performance. INVT developed this product years ago and has applied it in the coal cutter of coal mines.
"When we start to develop this product, we figured that in the future, the tri-level inverter will have more edges due to its topology structure and smaller size, which is more eco-friendly and highly efficient.", said Huang shenli, who is once a graduate of automation major.
R&D is the root to the survival of automation enterprise. The "Root-enhancement project" of INVT is not an empty promise — INVT invests more than 10% of its sales revenues in R&D every year, which is equivalent to the globally leading enterprises.
In comparison, the investment in R&D of INVT is quite luxurious, well, how to put these investment into operation? "The precondition is to ensure R&D is focused on the future needs of customers", said Huang shenli, "our R&D aims at fulfilling the future needs of customers.
It is based on our vision for the industry and targets at large drive field which is a high-end market entailing high standards and requirements on enterprises." Grasp industry development trend and customer needs to lead the direction of R&D and power the development of an enterprise.
In INVT, the R&D center is committed to not only following the latest technology development trend at home and abroad, but also collaborating with our customers to study the direction of the product. "Consider from the angle of customer needs and competition direction can help our R&D staff get twofold results with half the effort.".
Just as Huang shenli said, INVT is now striving to "study, understand and grasp" the change of future needs. Ride the momentum to positively fulfill our mission "The force of the flowing water can drive a heavy stone away". Such force is the so called trend, namely the right direction.
INVT has followed closely to the trend, that's the key to its success.
"INVT is very lucky as it has caught the right opportunity every time. The industries INVT stepped into all prove to be key industries related to future trends and supported by national government".
Why all the new businesses of INVT, from mining, metallurgy, new energy vehicle to rail transit, managed to develop so well? There are three reasons behind INVT's success, analyzed by Huang shenli: First, although INVT steps into many industries, its focus has always been on electronic electric technology, control technology and IT, which gives it a great edge in terms of technology basis.
Second, when selecting new industries, we are inclined to key industries supported by the national government to actively respond to the national call. Third, we will estimate the market capacity of the new industry to determine whether it is able to support the rapid development of the enterprise.
"My focus is no longer in how much profit we have earned, the growth of numbers is not important as finding a promising emerging market which can bring INVT up to a whole new level or even create a new INVT", said by Huang shenli in calm but firm tone. His main responsibility now, as he stated, is to consider where to go for INVT in the future.
At present, INVT has reached a critical period of development, "in the following five to ten years, INVT should climb up to the next level in terms of volume, strengthen its reputation and influence in sub-division industries and bring more returns for investors."
Above all, building INVT into an international, professional and influential well-known brand and enterprise has always been the one and only wish of Huang shenli. Vision In 2017, INVT has passed the Convergence of Informatization and Industrialization pilot review. Guided by "Made in China 2025"plan, INVT has made a comprehensive deployment in customer end.
In terms of product design, data collection and communication interfaces are added for customers to extract the value of data flow as needed; start with internal sub-system control, the group supply chain platform has been adopted uniformly for IT management, thus improving the competitiveness of the whole supply chain; independent industry automation departments have been established? to carry out solution-centered product deployment in R&D, product upgrade, plan formation and industry exploration.
"We are not only an automation enterprise, but also a manufacturing enterprise. We should first facilitate our steps towards transforming from traditional manufacturing enterprise to intelligent factory, and second, assist our customers in realizing production upgrade to be an intelligent manufacturer.", said Huang shenli.
Faced with the new wave of intelligent manufacturing, INVT will, based on its insightful understanding of the present industry, figure out a practical development road to draw a new landscape for INVT in the new age.