INVT Drives One of the Largest Pulp & Paper Manufacturer in the World
---
Time of issue:2018-07-19
Views:
In 2017, INVT won an order to supply comprehensive Goodrive800 series and solutions for one of the largest pulp & paper manufacturing upgrade in the world in the competition with international top brands, breaking the long-time monopoly in paper industry.
With more than one-year installation, modification, commissioning and start-up in the upgrade area of electrical and controls of dryer section, we have finished the hardest part of and the whole project will be completed in the upcoming several months.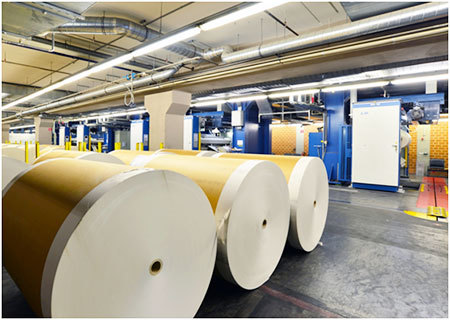 Goodrive800 for the Drive System Process
To meet the requirement of the end-user in Indonesia, including long-running process, we should ensure the driving system is able to work stable continuously, providing INVT 4-quadrant multi-drive inverter Goodrive800 series drive for paper making machine. Advanced process controls for pulp and paper mills, which enables control of production against key ratios such as reduced raw material and energy costs, emission restrictions and more.
By using Goodrive800 series to drive for the entire application and integrating it into one system, our end-user got a highly advanced solution that will drive efficient production. INVT leading-edge technology help to reduce the maintenance cost and increase the quality of the paper product, to ensure ongoing competitiveness.
Bright future
The increasing demand for packaging paper has resulted in pulp & paper mill accelerating its rate of production from year to year. And the future looks bright. The upgrade of the pulp paper manufacturing is of great significance to improve performance, to improve productivity and to reduce maintenance cost, further to protect the environment.
About INVT
Established in 2002 in Shenzhen, INVT has grown from strength to strength and has become an A-share listed company (002334) in 2010, counting 16 subsidiaries, over 30 domestic offices and warranty centers and 8 overseas branches, still forging strong partnerships all over the world now.