Strength Witness | INVT modular UPS won the "The next-gen of TCT innovative products" award
---
Time of issue:2023-06-02
Views: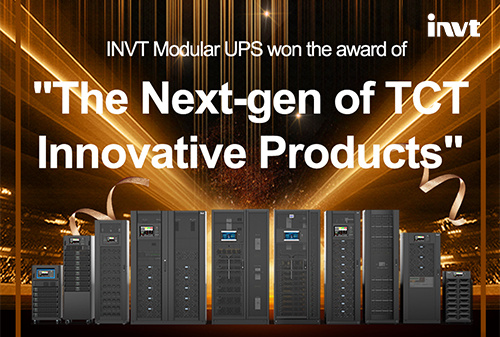 IT market annual meeting
Since the establishment of the first annual meeting in 2000, the IT market annual meeting has been successfully held for 23 consecutive sessions. The theme of this year's IT market annual conference is "Shushi Sunac • Value Rebirth" and is held in the form of 1 (summit) + 2 (network and data security, financial technology sub-forums). The conference focuses on the new model of digital and real integration, innovation and development, and discusses the new trends in the development of China's ICT industry in the form of the main forum + network security and financial technology two major theme forums.
With the successful conclusion of the 2023 IT Market Annual Conference in Beijing, the IT Market Annual Conference hosted by CCID Consulting Co., Ltd. is the longest annual top event in China's IT industry, and its market value is immeasurable. What did the annual meeting bring us?
Come back with honor
INVT won the "Modular Uninterruptible Power Supply (UPS) The Next-gen of TCT Innovative Products" award at this annual meeting, which not only improves the popularity and reputation of INVT, but also serves as a spur and test for INVT to help the industry develop.
INVT modular uninterruptible power supply (UPS) has flexible configuration and deployment methods. It combines the technical characteristics of traditional tower models with the modular requirements of modern computer rooms. While realizing modular design, it ensures the high efficiency of the system. reliability. The performance indicators of this product have reached the international level, and it has high performance. It is an ideal choice for high reliable power supply needs in various industries.
INVT Power will continue to pay attention to the development trend of domestic and foreign business forms, increase product technology innovation, and strive to transform technological innovation achievements into industrialization and practicality. Use the power of technology to continuously create value for customers, use core technology to contribute to the sustainable development of modular uninterruptible power supply (UPS) products, and make the modular UPS power supply chain strive to be "green, low-carbon, safe and reliable, energy-saving and efficient" develop!