"Professional, Special and New" Enterprise: Entering INVT
---
Time of issue:2023-03-30
Views:
Intelligent manufacturing is the inevitable direction of the development of industrial automation. It is the top priority to consolidate the foundation of the industrial chain of "specialized, refined and new" enterprises, and to enhance the competitiveness of the core links of the entire industrial chain. As a model enterprise in China's industrial control industry, INVT can help enterprises understand the digital transformation practices in the fields of industrial automation, energy and power.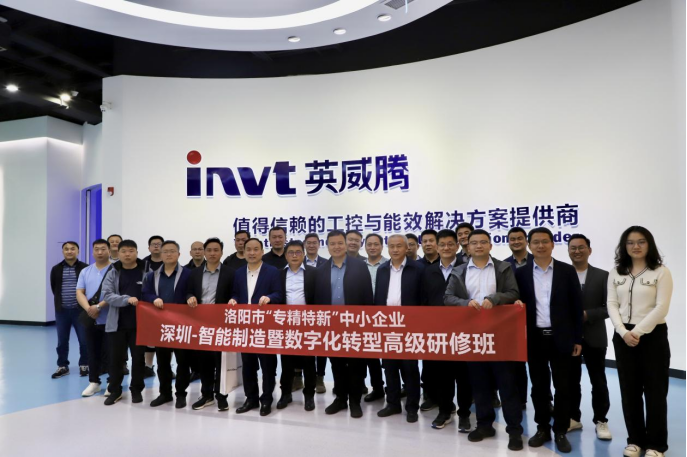 On March 16, a group of Luoyang "specialized, special and new" small and medium-sized enterprise intelligent manufacturing and digital transformation advanced training class (Shenzhen) visited the second stop - INVT Shenzhen Guangming Technology Industrial Park, and learned about INVT's industrial control and Advanced experience and innovative practices in energy efficiency solutions and other fields.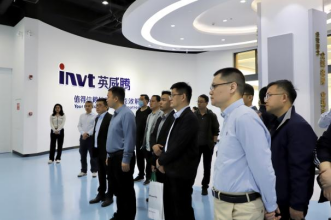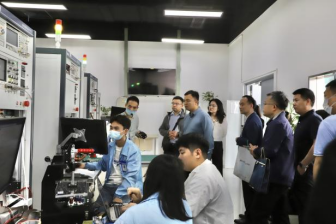 After the visitors visited the INVT exhibition hall and laboratory, Mr. Yang Lin, vice president of Shenzhen INVT Electric Co., Ltd. and president of the industrial automation business group, shared and introduced the development layout of INVT, helping the entrepreneurs present to understand the company's development history, Leading products, business scope and next development direction.
Smart manufacturing, green first, followed by the relevant person in charge of INVT on the three major themes of "photovoltaic power generation, smart future", "integrated solution to help EDC energy saving and carbon reduction", and "digital and intelligent bearing manufacturing solutions" Sharing and in-depth discussions, and summarizing INVT's experience in integrated solutions for modular UPS and data center key infrastructure, and discussing different practical experiences in the field of digitalization and smart manufacturing with entrepreneurs.
The morning meeting came to an end in a relaxed and active atmosphere, and the afternoon exchange meeting was still "full of dry goods". Dong Zong, Vice President of INVT Industrial Automation Business Group, centered on the core of energy saving, carbon reduction and sustainable development, he discussed "intelligent robot solutions based on cloud-edge-device architecture", "3D vision-assisted intelligent manufacturing", "real-time data-driven intelligent manufacturing "Three themes were shared, which inspired entrepreneurs to think about the purpose and path of intelligent production.
At the end of the symposium, Zhang Minkai, deputy director of the Luoyang Bureau of Industry and Information Technology, shared the digital practice of Luoyang's local manufacturing industry and the cultivation of digital automation talents, guiding enterprises to think about what challenges they are currently facing, what is intelligence, the top-level design of intelligence, and the path of practice and safeguards. Director Zhang also particularly emphasized that enterprises in the two places should establish long-term ties and strengthen exchanges and interactions in the future.
With the rapid development of the intelligent manufacturing equipment industry, the industrial automation control industry will also usher in a peak of development. INVT took this visit as an opportunity to have in-depth exchanges with various enterprises and understand the demands of the industry, helping enterprises to continuously improve their management capabilities, core competitiveness and industry influence in future development, and jointly create smart factories with low-energy consumption and high efficiency.