INVT Power wins big awards at "8th China Data Center Conference 2015"
---
Time of issue:2015-05-21
Views:
Sponsored by the China Computer Newspaper, the "8th China Data Center Conference 2015" was held in the Century Hall of Nikko New Century Hotel in Beijing 0n April 15th. This is 0ne of the most prestigious annual events in China's data center and cloud computing industry, and among more than 1,000 businesses, INVT Power overwhelmingly beat its peers to win the "China Data Center Leading Enterprise Award 2015" and "China Data Center Best Solution Award 2015".
INVT Power has an outstanding professional research team that provides all kinds of special engineering designs, and can effectively serve customers, and help them achieve their fundamental requirements to their highest satisfaction. Providing a comprehensive and personalized solution for customers rapidly is the primary business ive, and the company aims to continue its dedication to innovation as its goal.
The company's products are exported to Europe, America, the Asia-Pacific regions and many other high-end markets. It has already established 8 sales and technical support centers in China, as well as more than 30 provincial and city-level sales and service offices, enabling rapid response with its global 3-dimensional sales and service network. Highlighting high reliability, high cost-effectiveness, and technological innovation, the company's products have won unanimous praise and appreciation from customers worldwide.
China Data Center Leading Enterprise Award 2015
And deeply in various social sectors, information and data that networks have to carry have also increased substantially, and network power supply stability has become an increasingly important issue. Therefore, modularized, energy efficient, flexible, cost-effective, and easily-manageable data centers have become the goal pursued by users. As China's leading power solutions provider, INVT Power has launched RM Series Modular UPS power solutions to meet the needs of users.
RM Series Modular UPS power supply is the leading all-digital power product in the industry, and has integrated with the most advanced contemporary technological achievements in power, electronics and automatic control fields. The product has 10 patents, and has achieved a breakthrough in improvement in terms of critical equipment reliability, availability and maintainability. RM Series Modular UPS power supply combines traditional tower model technical characteristics and the needs of a modern modular engine room, ensuring a modular design while also providing high system reliability. Product performance matches internationally advanced levels, and is very cost-effective, making it the best choice for a highly reliable power supply solution for various industries. RM series products provide a variety of power modules and a cabinet system, so that users can flexibly configure the system according to their load requirements.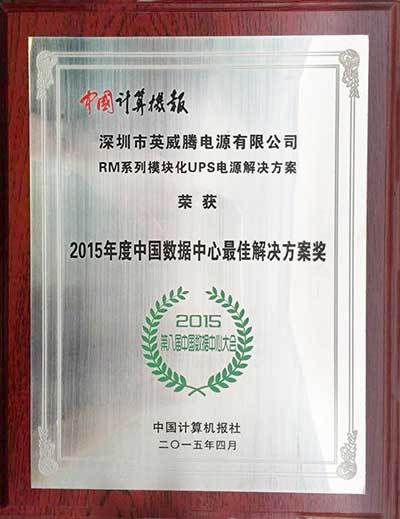 China Data Center Best Solution Award 2015
As a leading power solutions provider and being a leader in modular UPS power supply field, the company's overall strength has garnered it fame, popularity and respect all over the world.
The company continues to introduce competitive power products, to meet various industrial users' needs for high reliability and smart power supply systems. Leveraging its comprehensive advantages in research and development, products, services, production scale, etc., the company has been an industry leader. The company shows its dedication towards global operations through technological innovation and an internationalized brand, and aims to grow into a world-class enterprise in power and related power electronics fields, and to stand tall as a unique Chinese company across the world.