Thirteen absolute advantages of INVT Modularized UPS
---
Time of issue:2017-02-16
Views:
UPS is taken as the most critical part in power supply system of data center. The current UPS industry is also undergoing tremendous changes. Since modularized UPS has become an industry trend because of increasingly mature technologies, more and more users have been or are considering using modularized UPS to build new data center. In order to cater for users' new needs such as environment friendliness, energy conservation, high efficiency, easy expansion and easy maintenance etc., all manufactures also successively launch high-capacity modularized UPS, the status of traditional tower-type UPS is currently being challenged. Here, we will make an introduction of thirteen absolute advantages of INVT modularized UPS.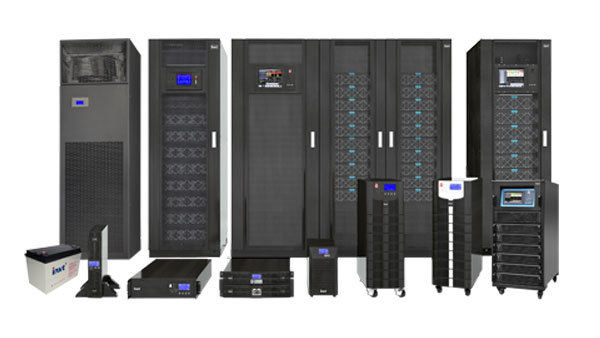 Simple installation, convenient capacity expansion: As to INVT RM Series Modularized UPS, there are various main-frame cabinets for user's option. With simple and convenient installation of main frame, direct and parallel capacity expansion can be realized between frames. Rack-mounted modularized cabinet also can easily be embedded to standard server cabinet for installation.
Strong usability, simple maintenance: As to INVT RM Series Modularized UPS, all modules use online hot-plug design, which can easily realizes online replacement of modules.
On-demand capacity expansion saves initial-period investment: The current actual UPS capacity can be configured according to currently predictable business demands. Based on business increase conditions in later period, online addition of power module in UPS system (doesn't need stopping machine/switching to bypass/module item-number setting and other operations) can be easily realized.
Intelligent network management, strong monitoring capability: INVT RM Series Modularized UPs can provide various motoring modes, which can facilitate access to rotating seal ring centralized monitoring system of data center and embedded management in DCIM system.
Module smart-stay improves efficiency and saves operation cost: INVT RM Series Modularized UPS can be automatically/manually started when system is in a relatively low load rate. Smart-stay mode saves operation costs and facilitates the system to realize more environmental friendliness and energy conservation.
Key power devices use integrated package IBGT module with higher reliability: Rectifying/inverter power part of INVT RM Series Modularized UPS uses integrated IGBT module device. The device has better singular performance and device driver turns to be easily and conveniently controlled, which can facilitate circuit control to be more reliable.
Environmental friendliness reduces harmonic pollution: INVT RM Series Modularized UPS uses dual-core DSP control, PWM modulation technology, PFC power-factor correction technology, facilitates input harmonic current to be further reduced, reduces pollution on electric network, while input power factor is also in close proximity to 1(0.99 can also be attained in low-load state, almost equivalent to pure resistive load.)
High-efficiency energy conservation reduces expenditures of electric charge: INVT RM Series Modularized UPS doesn't need standard transformer. With utilization of power device with low conduction loss, soft-switching technology, three-level topology circuit, the efficiency of UPS system can attain about 96%.
Isolated airway has strong adaptability in heat dissipation: Internal part of power module of INVT RM Series Modularized UPS adopts heat dissipation design of isolated airway, completely isolates control circuit board from heating devices to form air circulation and heat dissipation of independent airway and improves heat dissipation efficiency. Moreover, it greatly reduces the fouling of control circuit board, reduces the incidence of failure and facilitates RM series to have stronger capabilities of coping with a variety of work-condition environment.
Comprehensive product lines, flexible configuration: Varieties of INVT RM Series power modules: 10/15/20 /25 /30 /40 /50 kVA, varieties of mainframe capacities: 20/40/60/90/120/ 150/180/200/ 250/300/500/600 kVA, users can flexibly choose the optimal capacity configuration so as to save investment costs.
Optimal starting method of oil engine: Each power module can set one-by-one start function to facilitate UPS to gradually increase input-end electric current. It will bring good starting environment to electric generator and will not incur boot failure of electric generator.
Small volume, light weight, convenient transportation and installation: Standard model of INVT RM Series Modularized UPS cancels the configuration of output isolation transformer, which facilitates the volume to be further smaller and the weight to be greatly reduced. Whether it is transportation costs or installation, it has lower costs and more convenience than that of power-frequency UPS.
High power density saves covering area: The application of integrated package IGBT module high-power device adopted by INVT RM Series Modularized UPS and widespread utilization of dual-core DSP digital control system, three-level topology structure, loss reduction, thermal simulation as well as other key technologies facilitate that UPS system can obtain larger power output under the circumstance of same volume. RM Series single-stand capacity can attain 409kw/m2, which can save more machine-room area for users.
Various functions and various performance indicators INVT RM Series Modularized UPS all have excellent performance and their performance is never worse than various functions and indicators of international brands. In general, INVT Modularized UPS at the forefront of industry development trends has the optimal cost-effective performance.
In terms of procurement costs and practical after-sales maintenance, in addition to individual scenes, high-frequency Modularized UPS and high-frequency tower-type UPS have better performance than traditional power-frequency UPS in aspect of various indicators. The development trend that high-frequency machine will replace power-frequency machine has been widely recognized by the whole industry. All manufacturers currently have decreased or ceased researches on power-frequency machine. The statistical data in recent few years indicated that most of newly built data centers at overseas have already taken high-frequency UPS as the first choice of procurement.
The difference existing in power-frequency UPS, high-frequency tower-type UPS and high-frequency modularized UPS
We look forward to the confirmation of your visit. It would be a good chance to demonstrate our reliability as a future partner with your company
Item

Power-frequency UPS

High-frequency UPS

Conclusion

Morphological structure

Tower-type UPS

Tower-type UPS

Modularized UPS

Volume

Large

Medium

Medium

High-frequency UPS has smaller volume.

Efficiency

Relatively low

High

High

High-frequency UPS is more environmentally friendly.

Harmonic interference

High

Low

Low

High-frequency UPS is more environmentally friendly.

Usability

Bad

Medium

Good

Modularized UPS is more convenient.

Component failure rate

Low

Low

Relatively low

Component failure rate of power-frequency machine is relatively low.

Maintenance time

Long

Relatively long

Short

Short maintenance time of modularized UPS

System availability

Low

Relatively high

High

Modularized UPS has better usability.

Anti-load impact capability

High

Relatively high

Relatively high

Isolation transformer of power-frequency UPS is equipped with a certain buffering capacity.

Market trend

8% annual decrease

Increase slowly

15% annual growth

Power-frequency has been gradually eliminated from market or lagged-behind technology and low performance indicator.