INVT Meets Industry 4.0
---
Time of issue:2017-05-12
Views:
INVT meets industry 4.0? Yes. And what does INVT have to do with Industry 4.0? On 21st to 24th in June,2017, INVT will participate in Assembly & Automation Technology 2017 held in BITEC•Bangkok, Thailand. And one feature of Assembly & Automation Technology 2017 is intelligent manufacturing, which is driven by the growing popularity of Industry 4.0.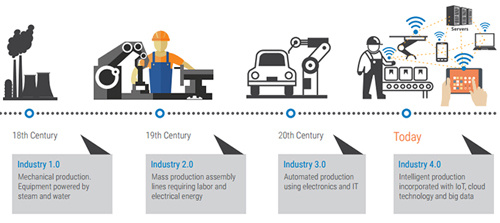 What industry 4.0 is like? Enter an industry 4.0 era, machine production is networked into a self-learning system using cutting-edge communication technology – resulting in a smart factory. The foundation for this modern industrial revolution is the Internet of Things (IOT), which enables continuous data exchange between all participating units – from the production robot to inventory management to the microchip. This connects all production and logistics processes together, making our industry more intelligent, efficient and sustainable.
How INVT steps forward industry 4.0 era in Assembly & Automation Technology 2017?
1. More Intelligence in Industry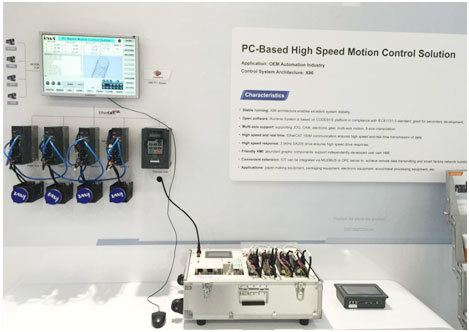 INVT Ether CAT high speed motion control solution is developed for OEM automation industry. The new solution can make motion control field more intelligent. Its control system architecture is X86. The main characteristics are as following:
● Stable running: X86 Architecture enables excellent system stability.
● Open software: Running System is based on CODESYS platform in compliance with IEC61131-1 standard, good for secondary development.
● Multi-axis support: support JOG, CAM, electronic gear, multi-axis motion, 5-axiz interpolation;
● High speed and real-time: Ether CAT 100M communication ensures high speed and real-time transmission of data;
● High speed response: 2.0KHZ DA200 drive ensures high speed drive response;
● Friendly HMI: abundant graphic components support independently-developed user own HMI;
● Convenient extension: IOT can be integrated via MODBUS or OPC server to achieve remote data transmitting and smart factory network building;
● Application: paper-making equipment, packaging equipment, electronic equipment, wood/metal processing equipment, etc.
For meeting the demand of intelligent industrial control, INVT also exhibits its servo system DA200 series, Elevator solution in this event. We are looking for partners to work together and make the industry 4.0 era come sooner.
2. More Efficiency in Industry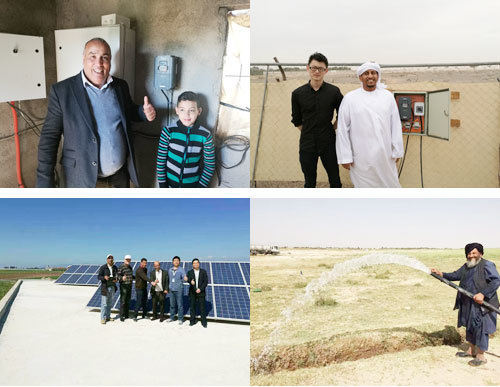 Companies in heating, and cooling supply, storage solutions and wind power industry, etc., around the world are facing the need to manage their energy resources more efficiently.
INVT, together with its energy-efficient products like solar pump inverter, grid-tied solar inverter, can help drastically cut energy costs, realize potential cost savings and achieve climate protection goals. For example, the application of INVT GD100-PV solar pump inverter not only can solve water access problem, electricity access problem, but also 60% cost can be saved in 5 years, which brings good economic effect and great environment protection benefit. And the solution of INVT GD100-PV solar pump inverter has been successfully applied in Morocco, Pakistan, Thailand, Dubai, Egypt and China, etc.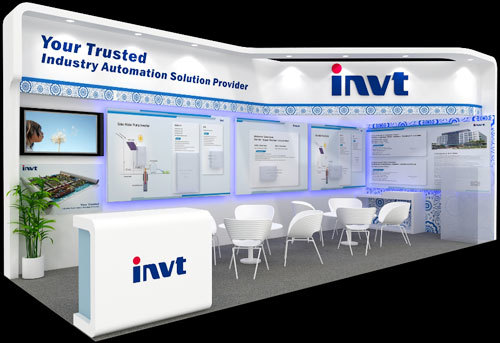 In this event, we look forward to cooperate with companies that devote effort to energy saving technology. Many intelligent industrial solutions and energy-efficient solutions can be found in INVT. In Hall 1A09-1, INVT is featuring an interactive exhibitor on intelligent industrial solutions and energy management.