INVT won the "Shenzhen Industry Award"
---
Time of issue:2021-09-30
Views:
On September 28, the World Industrial Development Forum&Fifth "Shenzhen Industry Award" award ceremony was held in Shenzhen, China. The enterprises and industrialists who won the "Shenzhen Industry Award" were commended at the meeting. INVT and INVT Chairman Huang Shenli won the fifth "Shenzhen Industrial Award" Enterprise Nomination Award and the "Shenzhen Industrialist Award" Industrialist Nomination Award respectively.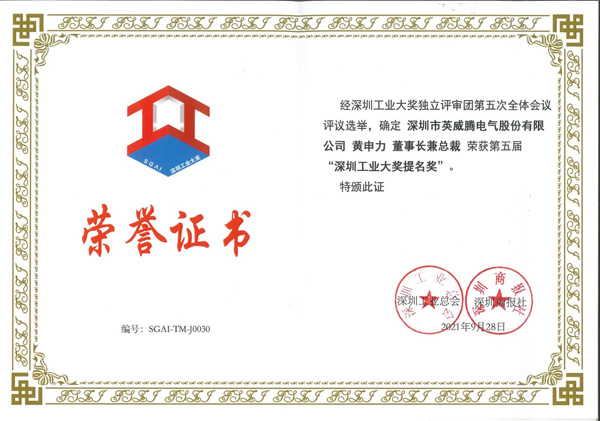 The "Shenzhen Industry Award" is jointly organized by the Federation of Shenzhen Industries and Shenzhen Economic Daily. It aims to vigorously promote the spirit of industry, create a social atmosphere that values ​​the real economy, commend the outstanding achievements of Shenzhen industrial enterprises and industrialists, and establish high quality in Shenzhen's industry. It is the highest honor in Shenzhen's industry to develop benchmarks, give full play to the important role of Shenzhen industrial enterprises in the construction of the "dual zone" and set up special awards to form a corresponding system with the "China Industrial Awards".
INVT's ability to stand out and win this award not only means that INVT has become a representative of high-quality development in Shenzhen's industry, but also confirms INVT's mission and responsibility to be technological innovation-oriented and take the physical industry as the carrier. At the same time, it also demonstrates that INVT, in the face of pressure and challenges, has taken a path of innovative practice with brand quality as the guarantee and scientific and technological innovation as the support, pioneering, innovative and innovative practice.