INVT DA200 High Performance Servo System, Boost the China Made a Dream!
---
Time of issue:2018-08-16
Views:
Servo system is a kind of automatic motion control device, which is mainly used to control the position, azimuth and state of the mechanical parts precisely. INVT servo system is widely used in the field of industrial automation, with leading technology, the use of simple, stable and reliable, higher price advantage. Years of industry accumulation, leading technology strength, INVT servo has achieved leapfrog development, not only can satisfy most of the domestic market demand, and has begun to expand overseas, opening up new market.
Ten years with sincere heart mirror, nothing was always tempered. From the earliest industry to explore, to the way break open a way through bramble and Thistle, Servo Road INVT unusual ten years. No matter what kind of challenge, no matter what kind of environment, in order to Witten the pride of national industry in order to human dignity, INVT brave and fearless, temper forward, from 0 to 1, from 1 to N, from the breakthrough to innovation, from immature to mature, today, we have been at the forefront of domestic servo industry the more brave, more and more strong!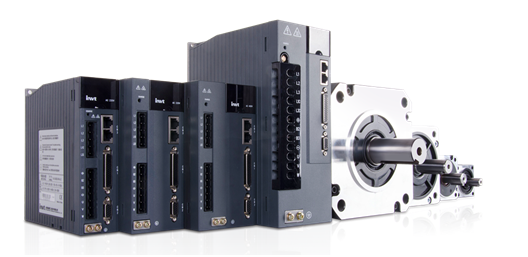 DA200 high performance universal AC servo system is INVT invested a lot of resources, to build the star upgrade products, the front drive control, high precision, high response excitation leading performance, driving control of unlimited potential, to achieve the perfect servo and human, machine and environment harmony.
DA200 features:
Full closed loop, electronic cam and point position control
High speed: speed response frequency up to 2.0kHz, greatly shorten the setting time, leading in the same industry.
High precision: equipped with 23 bit absolute encoder, greatly enhance the control performance of the driver, greatly enhance the low speed stability.
High flexibility: the use of advanced control algorithms, equipped with a variety of vibration or trapping, improve the efficiency and stability of equipment.
High intelligence: without the guidance of experts, without the use of built-in offline / online experience, self identification, adaptive inertia vibration suppression, disturbance observer, speed observer, parameter copy function, visual debugging, greatly reduce the maintenance cost.
Network type: support EtherCAT, CANopen, Montionnet, Profibus-DP, Modbus and other communication protocols, data upload, traceability, easy to achieve industrial networking.
Full specification: power 0.1kW-22kW, configure 40/60/80/130/180/200/263 different chassis motor.
Application of DA200 is especially suitable for multi axis coordination, high overload, high speed and high response, when the DA200 and the European and Japanese brands in the same robot, CNC machine tools, lithium battery winding equipment, high light machine, LED machine, film cutting machine, engraving machine, knitting machines and other equipment in the application of the evaluation data. Show that DA200 can meet the high complex motion control technology in place, leading the domestic demand, and has the advantages of price and service.